Product
Multi-loop digital display controller
Model
SUP-2700
Dimension
A. 160*80*136mm
B. 80*160*136mm
C. 96*96*136mm
Measurement accuracy
±0.2%FS
Transmission output
Analog output----4-20 mA, 1-5v、
0-10mA, 0-5V, 0-20mA, 0-10V
Alarm Output
Over-range display value flashing alarm function With upper and lower limit alarm function, with alarm return difference setting; Relay capacity:
AC220V/2A(big)DC24V/2A(big) (Resistive load)
Note: When the load exceeds the relay contact capacity, please do not directly carry the load
Power supply
AC/DC100~240V (Frequency 50/60Hz) Power consumption≤5W
DC 20~29V Power consumption≤3W
Use environment
Operating temperature (-10~50℃) No condensation, no icing
Printout
RS232 printing interface, micro-matched printer can realize manual, timing and alarm printing functions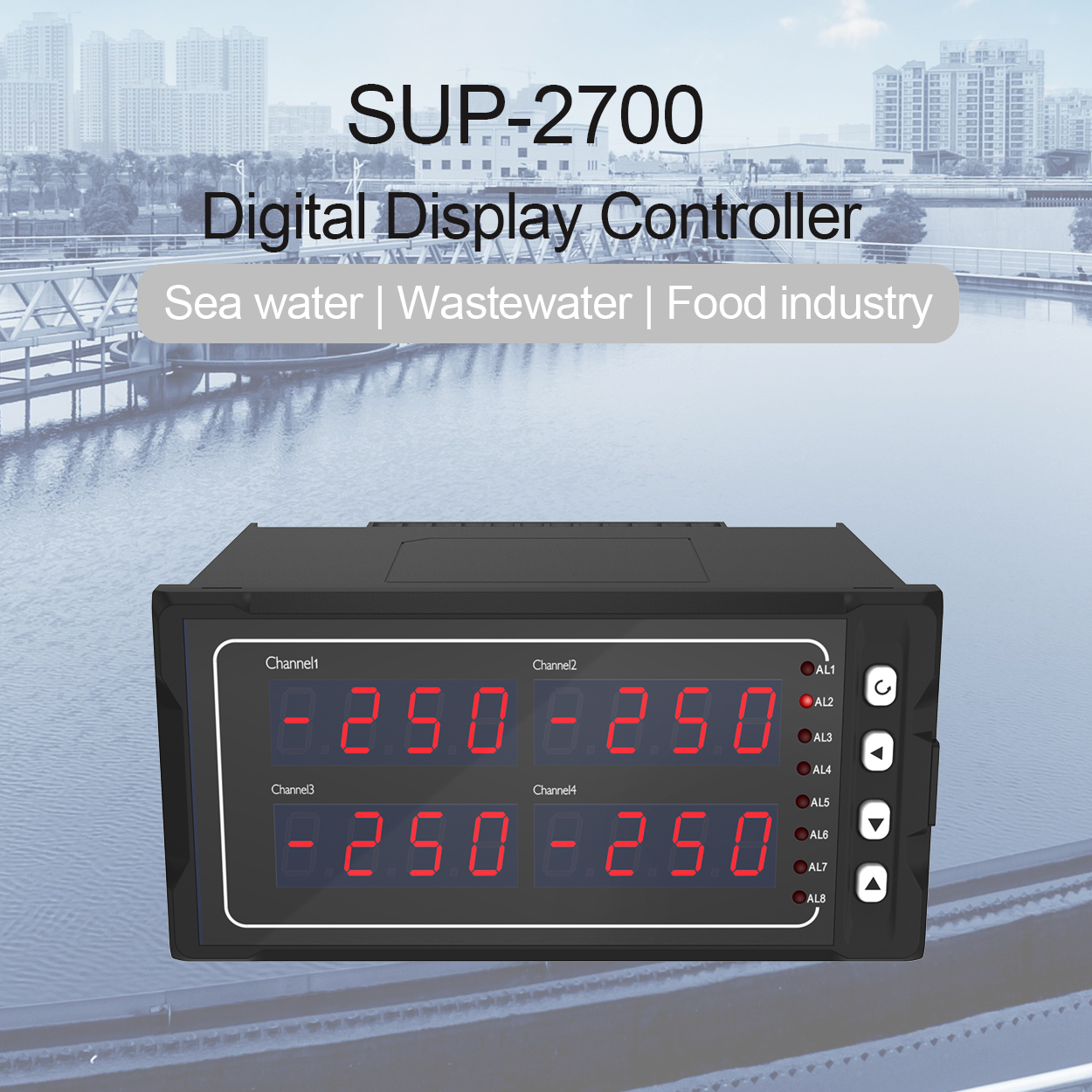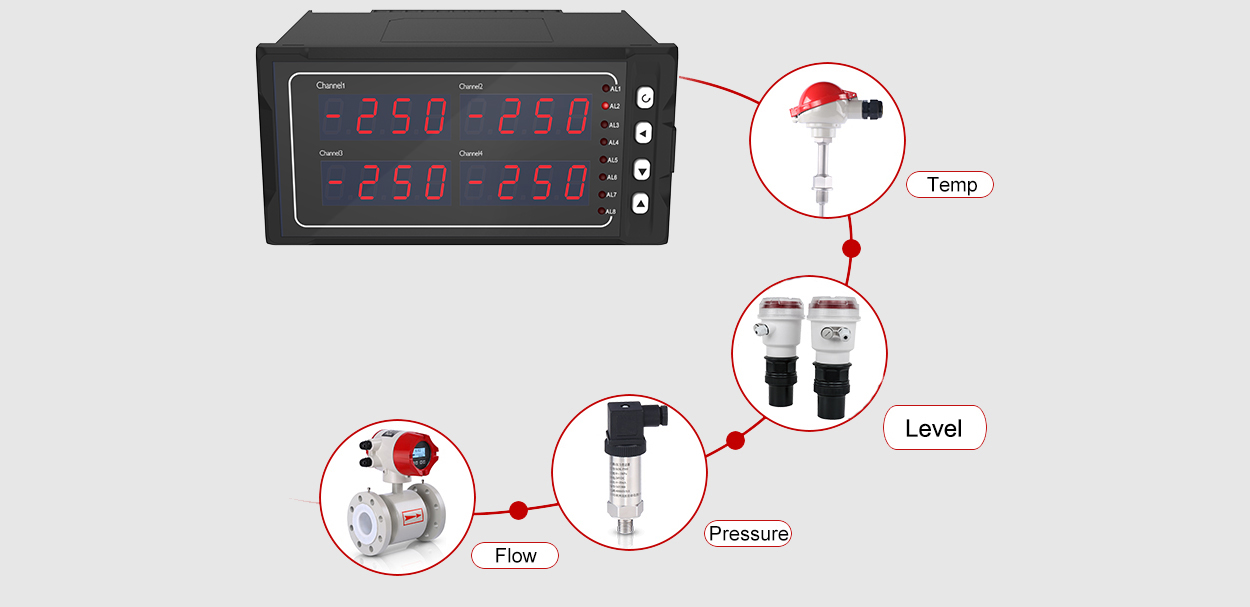 Multi-loop digital display control instrument with automatic SMD packaging technology, has a strong anti-jamming capability. It can be used in conjunction with various sensors、transmitters to display temperature, pressure, liquid level, speed, force and other physical parameters, and it can measure 8~16 loops input go the rounds, support 8~16 loops "uniform alarm output", "16 loops separate alarm output", "uniform transition output ", "8 loops separate transition output" and 485/232 communication, and is applicable in system with various measuring points.
Input signal type list:
| | | | | | |
| --- | --- | --- | --- | --- | --- |
| Graduation Number Pn | Signal type | Measure range | Graduation Number Pn | Signal type | Measure range |
| 0 | TC B | 400~1800℃ | 18 | Remote Resistance 0~350Ω | -1999~9999 |
| 1 | TC S | 0~1600℃ | 19 | Remote Resistance 3 0~350Ω | -1999~9999 |
| 2 | TC K | 0~1300℃ | 20 | 0~20mV | -1999~9999 |
| 3 | TC E | 0~1000℃ | 21 | 0~40mV | -1999~9999 |
| 4 | TC T | -200.0~400.0℃ | 22 | 0~100mV | -1999~9999 |
| 5 | TC J | 0~1200℃ | 23 | -20~20mV | -1999~9999 |
| 6 | TC R | 0~1600℃ | 24 | -100~100mV | -1999~9999 |
| 7 | TC N | 0~1300℃ | 25 | 0~20mA | -1999~9999 |
| 8 | F2 | 700~2000℃ | 26 | 0~10mA | -1999~9999 |
| 9 | TC Wre3-25 | 0~2300℃ | 27 | 4~20mA | -1999~9999 |
| 10 | TC Wre5-26 | 0~2300℃ | 28 | 0~5V | -1999~9999 |
| 11 | RTD Cu50 | -50.0~150.0℃ | 29 | 1~5V | -1999~9999 |
| 12 | RTD Cu53 | -50.0~150.0℃ | 30 | -5~5V | -1999~9999 |
| 13 | RTD Cu100 | -50.0~150.0℃ | 31 | 0~10V | -1999~9999 |
| 14 | RTD Pt100 | -200.0~650.0℃ | 32 | 0~10mA square | -1999~9999 |
| 15 | RTD BA1 | -200.0~600.0℃ | 33 | 4~20mA square | -1999~9999 |
| 16 | RTD BA2 | -200.0~600.0℃ | 34 | 0~5V square | -1999~9999 |
| 17 | Linear resistance 0~400Ω | -1999~9999 | 35 | 1~5V square | -1999~9999 |