Product
Single-loop digital display controller
Model
SUP-2100
Dimension
A. 160*80*110mm
B. 80*160*110mm
C. 96*96*110mm
D. 96*48*110mm
E. 48*96*110mm
F.72*72*110mm
H. 48*48*110mm
K.160*80*110mm
L. 80*160*110mm
M. 96*96*110mm
Measurement accuracy
±0.2%FS
Transmission output
Analog output----4-20mA、1-5v、
0-10mA、0-5V、0-20mA、0-10V
Alarm Output
ALM----With upper and lower limit alarm function, with alarm return difference setting;Relay capacity:
AC125V/0.5A(small)DC24V/0.5A(small)(Resistive load)
AC220V/2A(big)DC24V/2A(big)(Resistive load)
Note: When the load exceeds the relay contact capacity, please do not directly carry the load
Power supply
AC/DC100~240V (Frequency 50/60Hz) Power consumption≤5W
DC 12~36V Power consumption≤3W
Use environment
Operating temperature(-10~50℃)No condensation, no icing
Printout
RS232 printing interface, micro-matched printer can realize manual, timing and alarm printing functions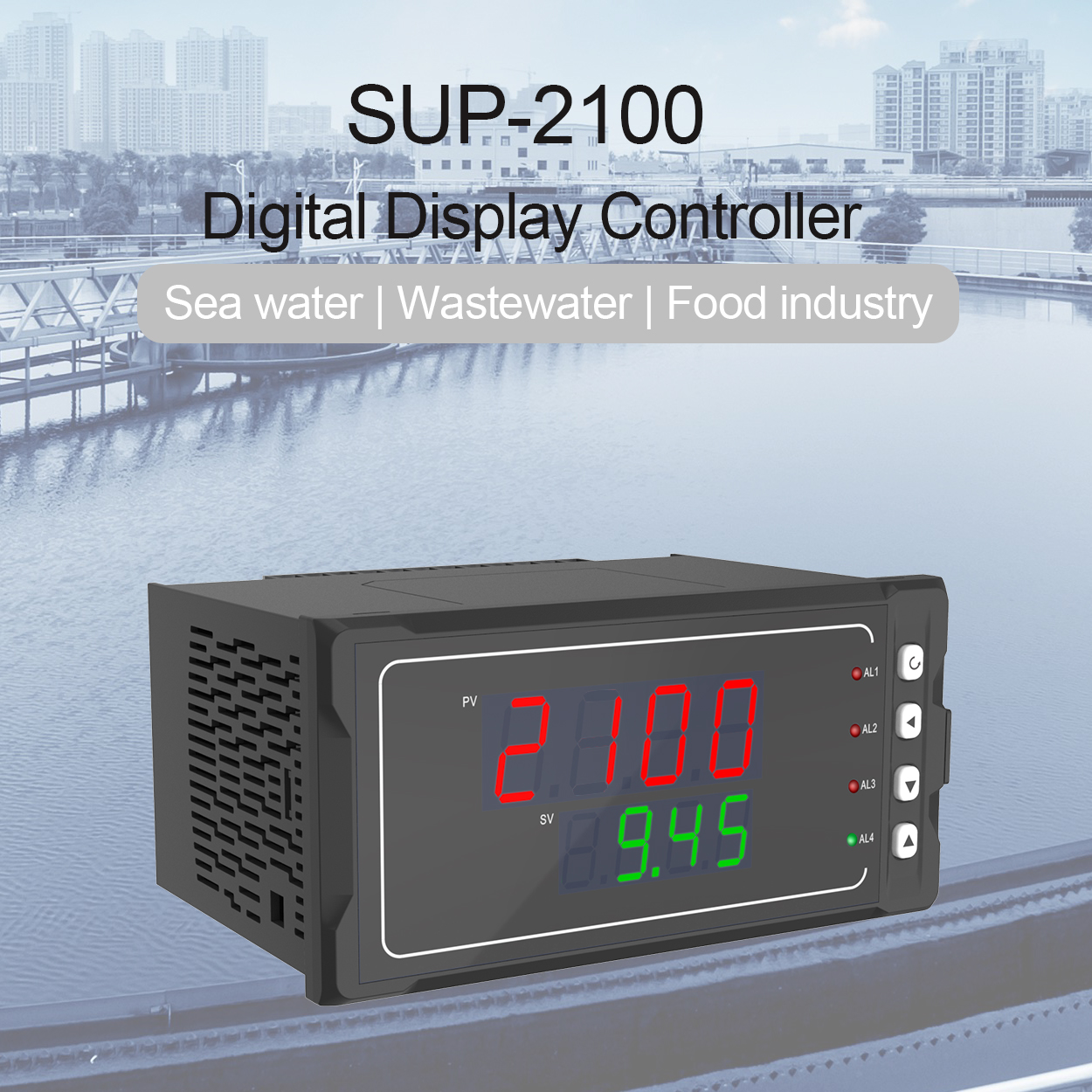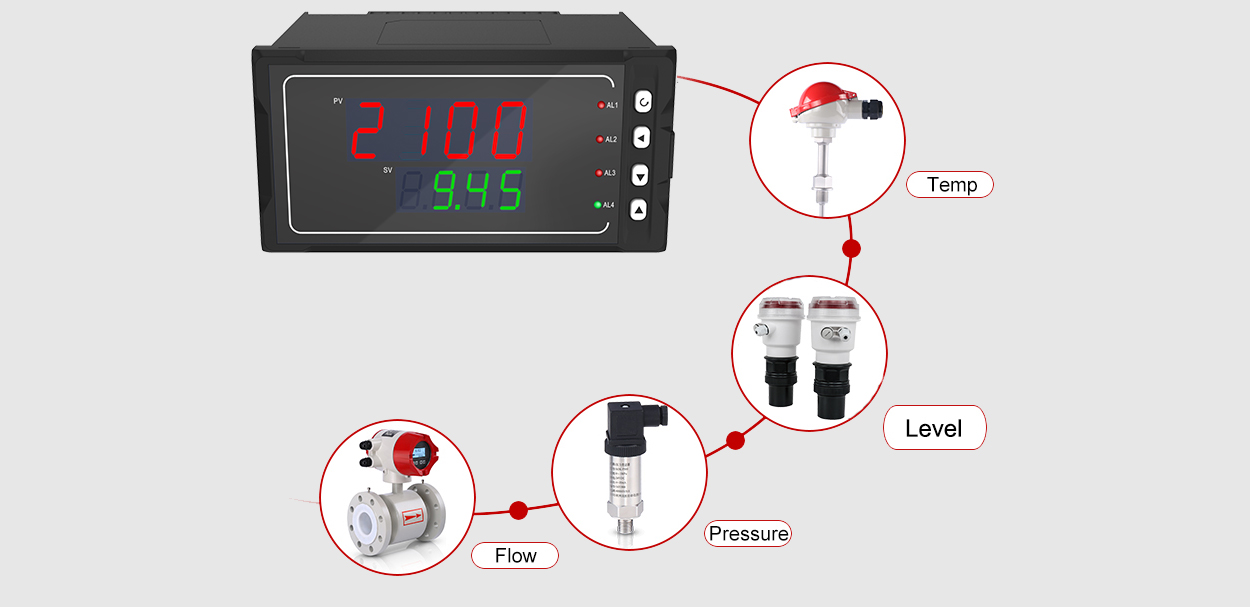 Single-loop digital display controller with automatic SMD packaging technology, has a strong anti-jamming capability. Designed with dual-screen LED display, it could display more contents. It can be used in conjunction with various sensors、transmitters to display temperature, pressure, liquid level, speed, force and other physical parameters, and to output alarm control, analog transmission, RS-485/232 communication etc. More than the traditional digital display meters is a new function to restore the factory default parameters, with easier operation and better applicability.
Input signal type list:
| | | | | | |
| --- | --- | --- | --- | --- | --- |
| Graduation Number Pn | Signal type | Measure range | Graduation Number Pn | Signal type | Measure range |
| 0 | TC B | 400~1800℃ | 18 | Remote Resistance 0~350Ω | -1999~9999 |
| 1 | TC S | 0~1600℃ | 19 | Remote Resistance 3 0~350Ω | -1999~9999 |
| 2 | TC K | 0~1300℃ | 20 | 0~20mV | -1999~9999 |
| 3 | TC E | 0~1000℃ | 21 | 0~40mV | -1999~9999 |
| 4 | TC T | -200.0~400.0℃ | 22 | 0~100mV | -1999~9999 |
| 5 | TC J | 0~1200℃ | 23 | -20~20mV | -1999~9999 |
| 6 | TC R | 0~1600℃ | 24 | -100~100mV | -1999~9999 |
| 7 | TC N | 0~1300℃ | 25 | 0~20mA | -1999~9999 |
| 8 | F2 | 700~2000℃ | 26 | 0~10mA | -1999~9999 |
| 9 | TC Wre3-25 | 0~2300℃ | 27 | 4~20mA | -1999~9999 |
| 10 | TC Wre5-26 | 0~2300℃ | 28 | 0~5V | -1999~9999 |
| 11 | RTD Cu50 | -50.0~150.0℃ | 29 | 1~5V | -1999~9999 |
| 12 | RTD Cu53 | -50.0~150.0℃ | 30 | -5~5V | -1999~9999 |
| 13 | RTD Cu100 | -50.0~150.0℃ | 31 | 0~10V | -1999~9999 |
| 14 | RTD Pt100 | -200.0~650.0℃ | 32 | 0~10mA square | -1999~9999 |
| 15 | RTD BA1 | -200.0~600.0℃ | 33 | 4~20mA square | -1999~9999 |
| 16 | RTD BA2 | -200.0~600.0℃ | 34 | 0~5V square | -1999~9999 |
| 17 | Linear resistance 0~400Ω | -1999~9999 | 35 | 1~5V square | -1999~9999 |