When your parents receive letters and gifts from your company
The April reflects the most beautiful poems and paintings in the world. Each sincere letter could conform people's hearts. In recent days, Supmea sent special thank-you letters and tea to the parents of 59 employees.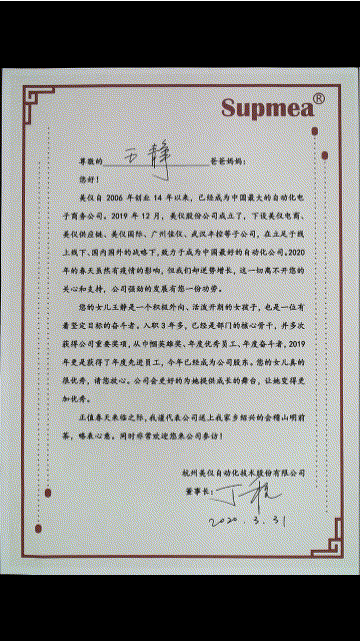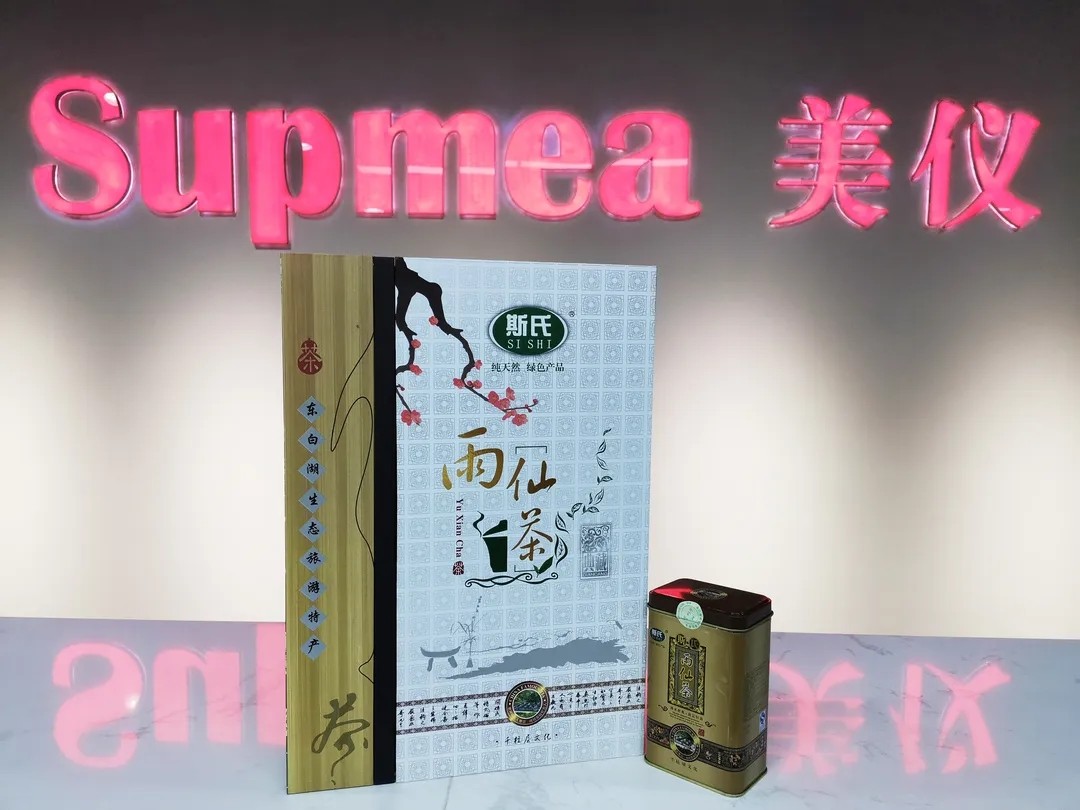 Faith behind letters and objects
Seeing words is such as surface, letters could be a habitual way for Chinese people to express their appreciations. Supmea's development is inseparable from joint efforts of every employee and their family members. The company extraordinary presented Yuxian tea with special thank-you letters to employees who won the Major Contribution Award and Advanced Honor Award in 2019 as well as to all employees'parents who visited the company, especially for those living in Hubei Province .
Every unique letter is sincerely written for every employee. "We've come up with various ways to prepare these letters. In order to buy the right envelopes during the material shortage period of epidemic outbreak, we searched around bookstores and stationery stores," said Tang Junyi of the General Management Department. Ding Cheng, Chairman of the Board of Directors, personally manages each letter and leave his signature to show the company's thanks to contributions made by employees'parents.
Send back poems and letters to convey feelings
"126 cans of Mingqian tea and 59 letters set up the emotional bridge between Supmea and the strivers together with their families. After receiving those letters, unmberous family members of the strivers are truly touche."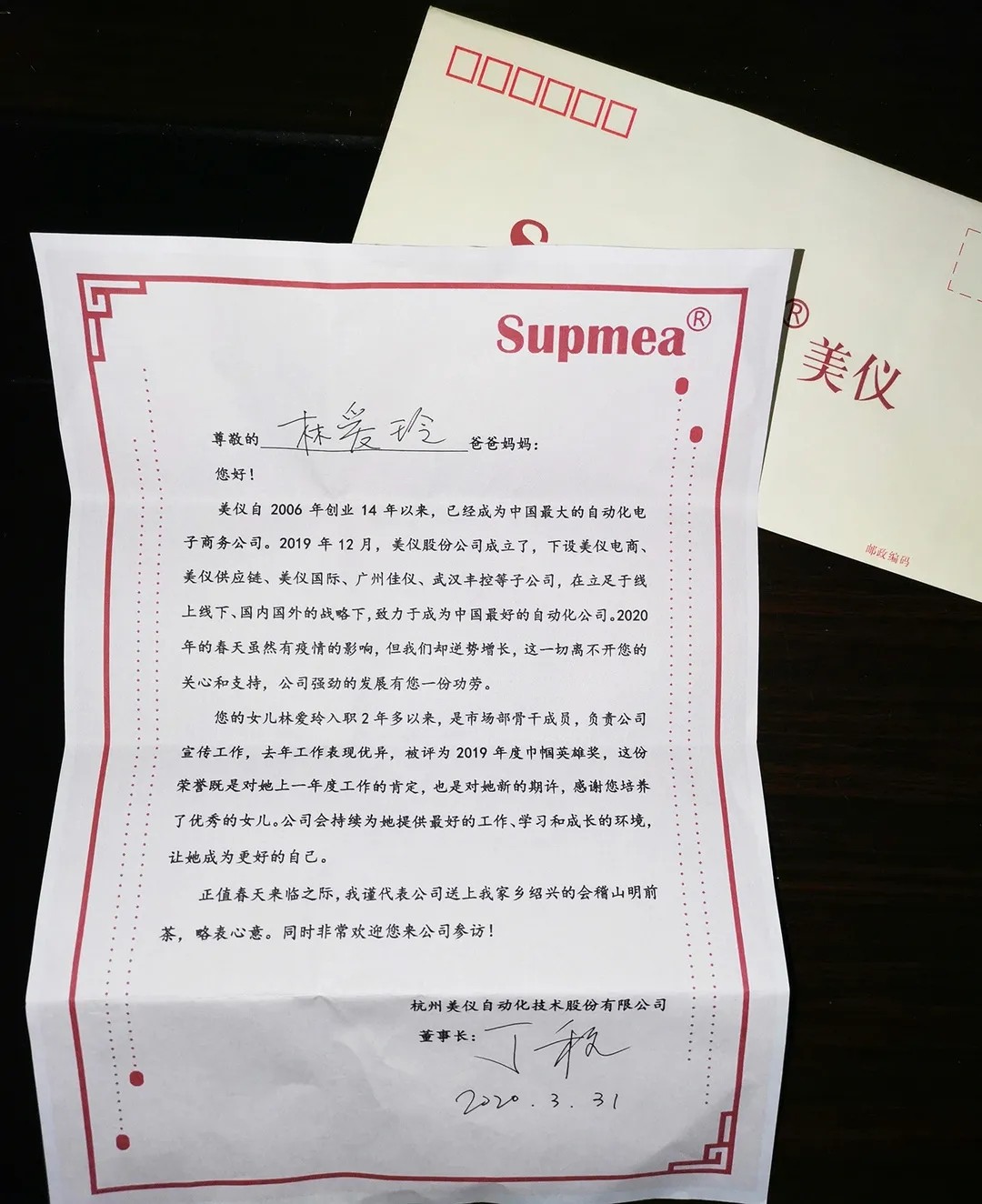 "This is the first precious gift we received after 76 days of quarantine, " The parents of Lin ailing, a marketing staff who is also the last Hubei person to return to the company, said "I feel so grateful that Supmea cares about us and sends us tea&letter, which is very warm."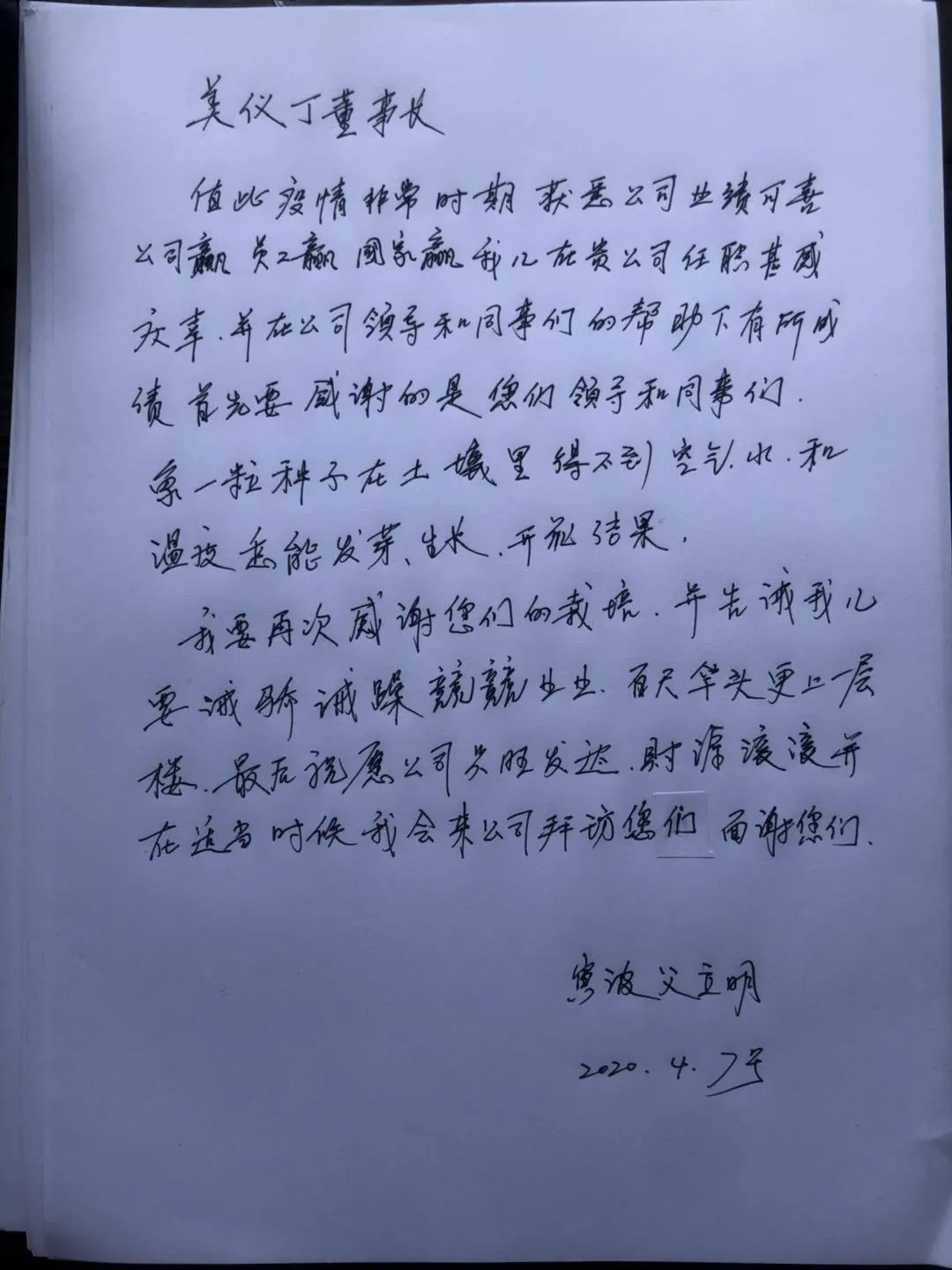 Reply from Wang Yínbo's Parents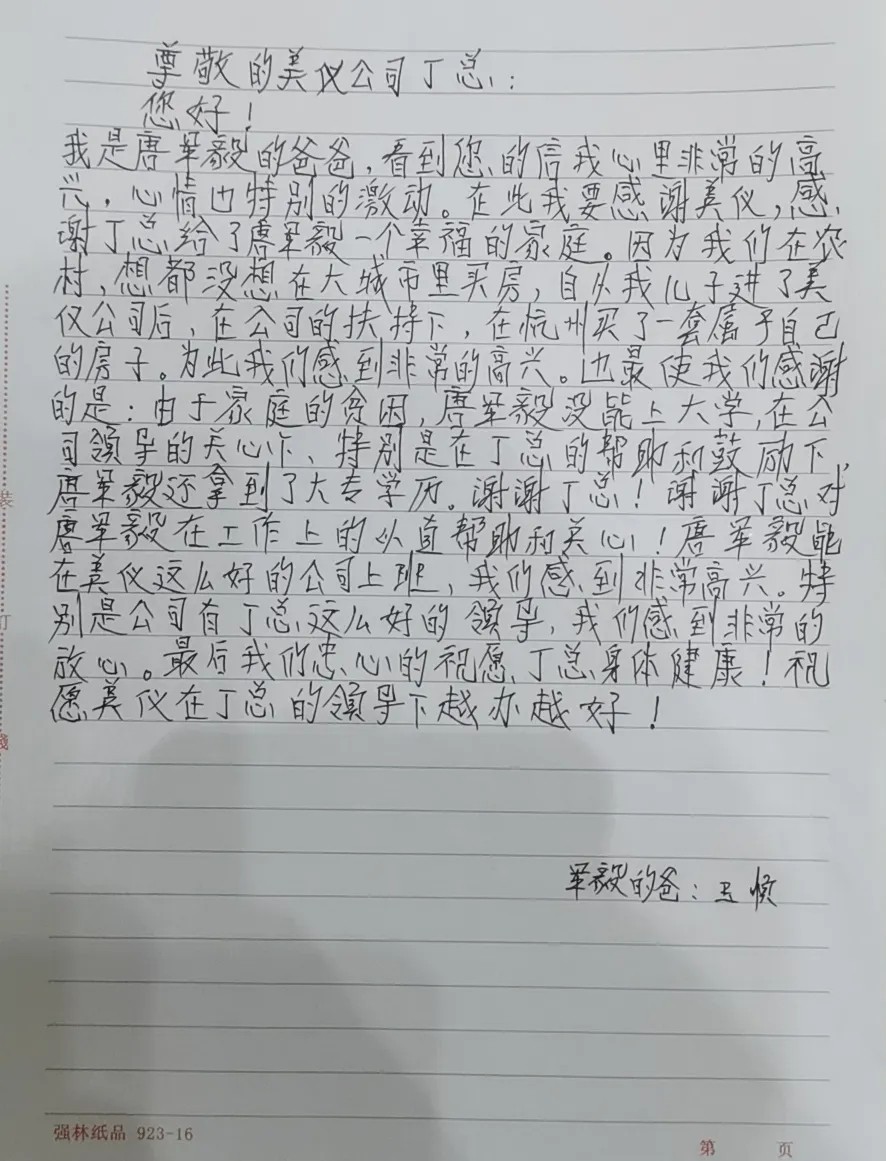 Reply from Tang Junyi's parents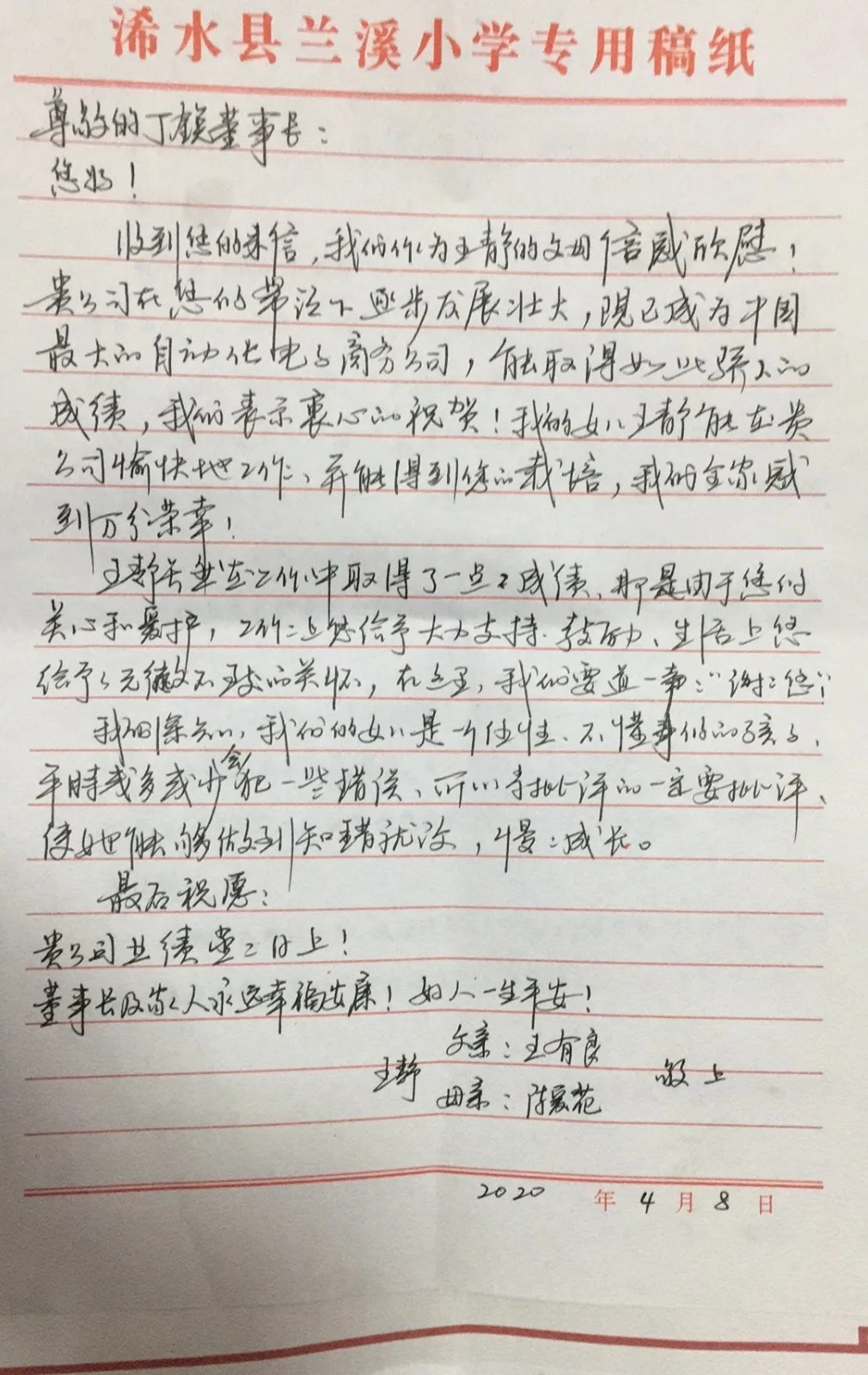 Reply from Wang Jing's parents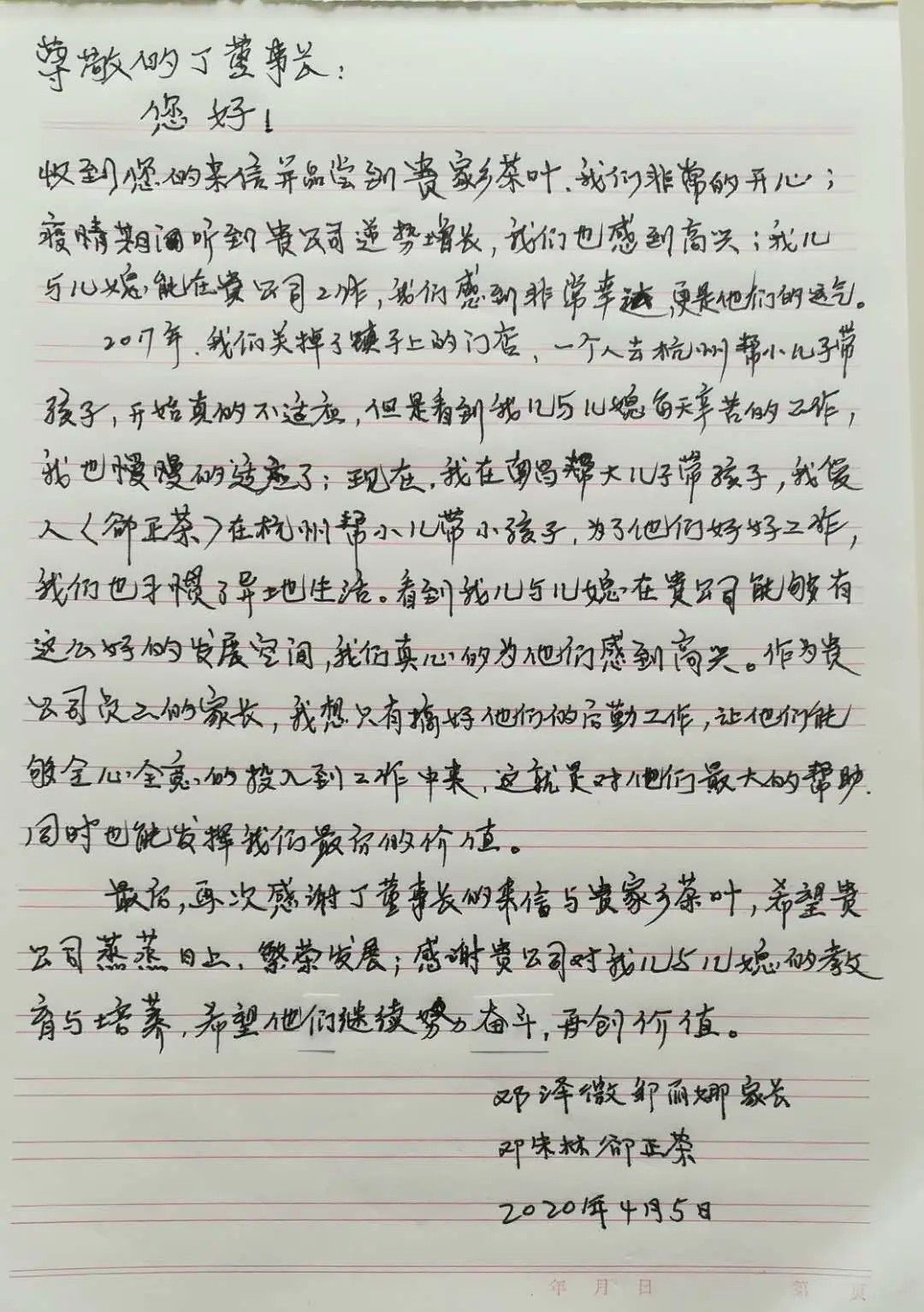 Reply from Deng Zewei's parents
A lot of lovely parents of our staffs have been invited to the company for many times and deep friendship has been built. So far, dozens of strivers' parents have come to visit the company.
Xu Lei who works at the Human Resources Department, benefits from the company's interest free housing loan and bought the first independent house in Hangzhou. When his mother came to Hangzhou from Gansu Province to help with the decoration, she was invited to visit the company and said: "this time I feel the excellent atmosphere of the company as well as my son's working conditions. Although it's more than 1000 kilometers away from Gansu to Hangzhou, I'm relieved that my son can work and live in Supmea."
Giving sincere thanks to support and trust from family members of our strivers in Supmea. Welcome to visit our company.